This page's link: "erowbike.com/eG20"
Return to Main Menu
Photo of eG20 at Mojo Coffee ("Pandemic Mojo"), 22 Mar 2020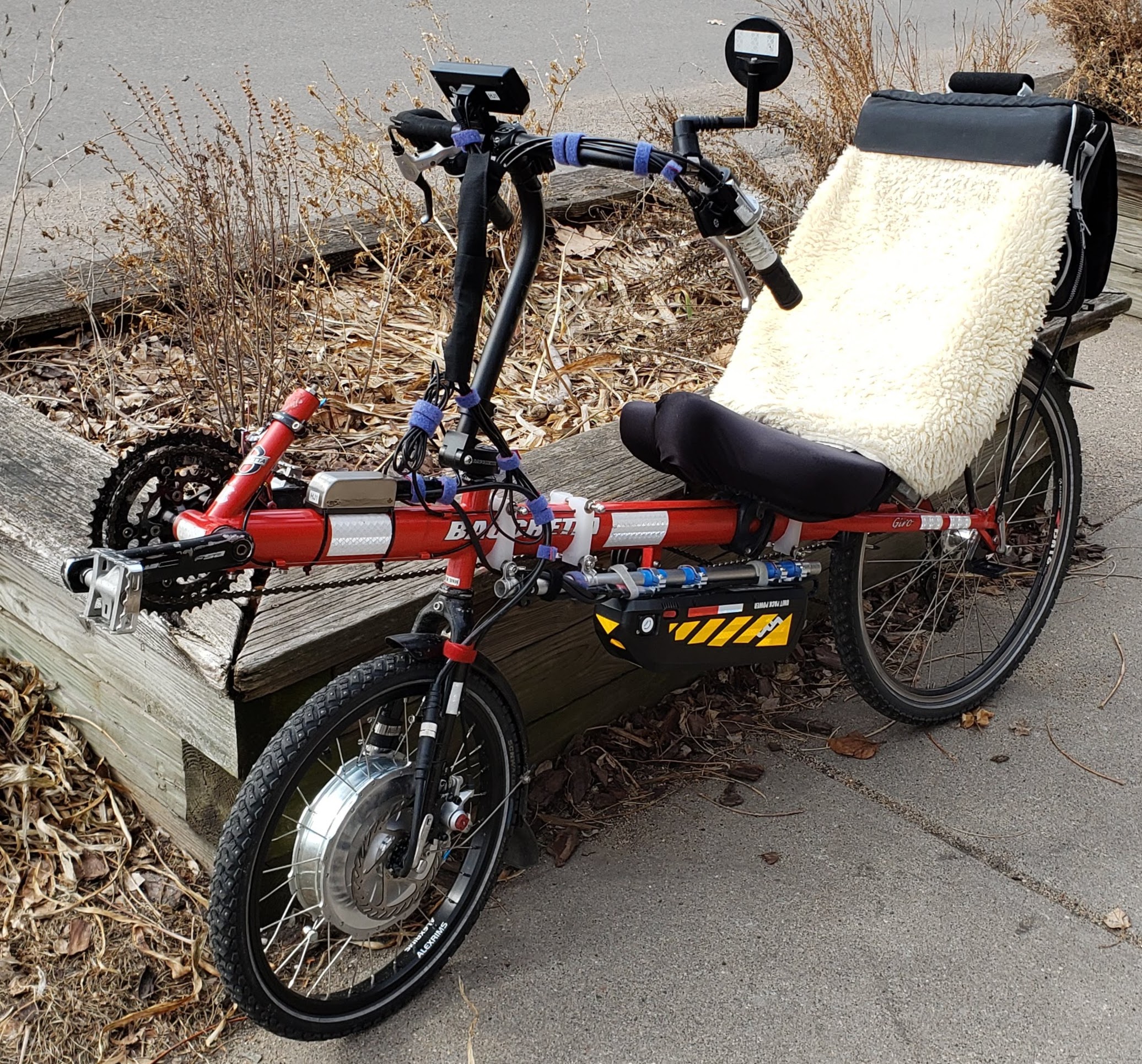 Sample Trip Stats
Dist
Time
Speed
Max/Avg
Amps
Min/Max
Regen
%
Temp C
Max/Avg
WattHrs Out
Total/Mile
WattHrs In
Charge/Effic %
Battery
Voltage
Notes &
Misc.
9.8
0:51
35.1/11.5
-14/29
6.7
38/24
137.9/13.2
150/92
14S
23 Feb 2020, high 40's; 1st ride
11.9
1:02
23.5/11.4
-9.8/29.4
4.3
6/3
102.9/8.2
120/86
14S
First Saturday OUST ride, 14 Mar 2020; 22 degree temps CHILLY.
22.3
1:46
36.8/12.5
-10.6/29.4
7.3
21.6/16.5
230.2/9.6
270/85
14S
22 Mar 2010; 25/G35 MPH winds; 32-44 F temps; 21.5 mi. per GPS; 22.4 per Sigma
First test ride results, 23 Feb 2020, Sunday; UNUSUALLY high temps in the upper 40's, very sunny. This trip consisted of going up Highland Pkwy to Snelling -- one mile uphill, mostly on throttle. Return from Snelling is almost all downhill, did mostly pedaling with purposeful regen on steeper inclines. Next was going up and down Finn once or twice, again mostly on throttle. Then to Fort Snelling overlook and back (approx 6 miles of the 9.8 mile trip) - this was also mostly on throttle. Max speed was reached using WOT going downhill on Ford Pkwy to the bridge, using a nearly constant 800+ watts. I crashed the bike on a 'trail curb derail' maneuver to test the battery rail -- it passed with flying (literally) colors -- my left knee didn't like it very much. I finished the ride home with 100% throttle. It was easy to spin the front wheel (studded tire) in snow/ice or on sandy pavement if opening the throttle quickly (don't do that so much). Leaning forward helps a lot if you need to accelerate quickly. I didn't do the full torque test going up/down the North entrance of Hidden Falls Park this time.

Trip Miles: 9.768 [BC5.12 indicates 10.39 mi; WS= 1600+mm?] [GPS indicated 9.42, "First eCherry G20 Ride"; although GPS reading seemed low after Snelling and back portion, which is a measured 2 miles via map geography] CA says 9.8, strava says 9.4 ... wheelsize: 1,565 mm on CA
Max Temp: 38; Avg Tmp: 24;
Max Sp: 35.1MPH; Avg Sp: 11.5 MPH;
Trip Time: 50 mins 54 secs;
AMin: -14.2 (via ebrake);
AMax: 28.96; VMin: 49.9; (approx 5V sag at max load for this trip)
%Regen: 6.7%; Regen Ah: 0.1605;
Watt-hrs: 137.94; Wh/mi: 13.2;
Indicated battery voltage at end of trip: 54.9;
Amp hours (Ah) used: 2.38;
Watt-hrs put back into battery pack per watt-meter: 150 (138 out, 150 in; == 92% efficiency)
First Saturday OUST ride, 14 Mar 2020; 22 degree temps CHILLY. Down river, Shepherd, Otto, uphill to Snelling. Pulled a short but steep hill at nearly 1,400 watts, on dry pavement; no evidence of slippage, even with leaning fully back and having studded tires. Turns out the right handlebar was seriously bent inward due to the previous crash. Forgot to log trip with GPS (Strava).
Photo of eg20_ca_13-2whrs-mile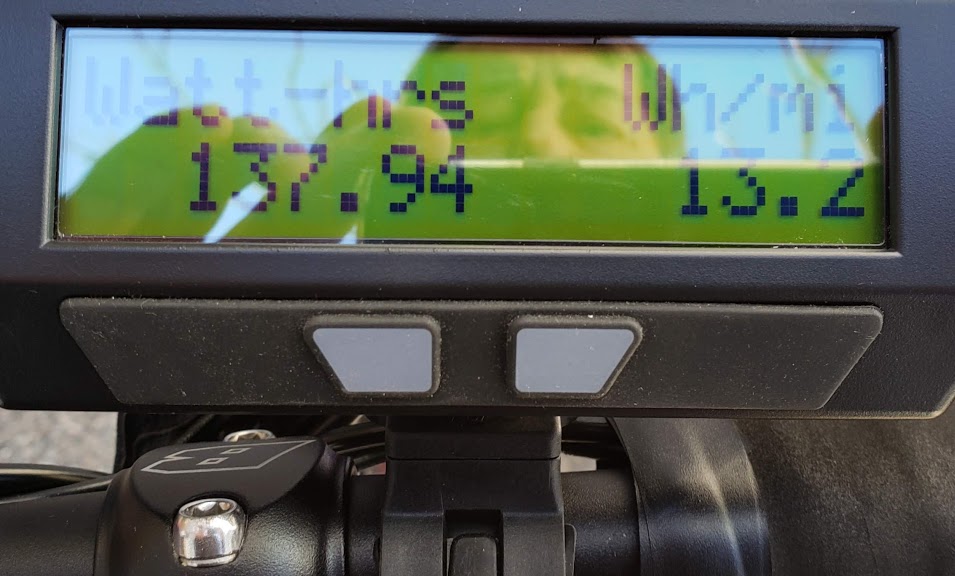 Photo of CA with the circumference of 1,565mm for the 20" front wheel, fitted with Schwalbe Winter Marathons; 4 rows of carbide studs (Winter use). The "true" 20 inch (DIN 406) wheels can have tire circumferences anywhere from 1500 to 1600 or more millimeters, depending on the tire profiles. The "nominal" circumference for 20"/406mm tires is typically 1500mm.

Tire model Circumference (mm)
==========================================================================
Schwalbe Marathon Racer 1563 on G20 front wheel
Schwalbe Marathon Winter 1545 studded 20" tires, with RhinoDillo inserts
Schwalbe Big Apple Plus 1658 via tape measure, on eRowBike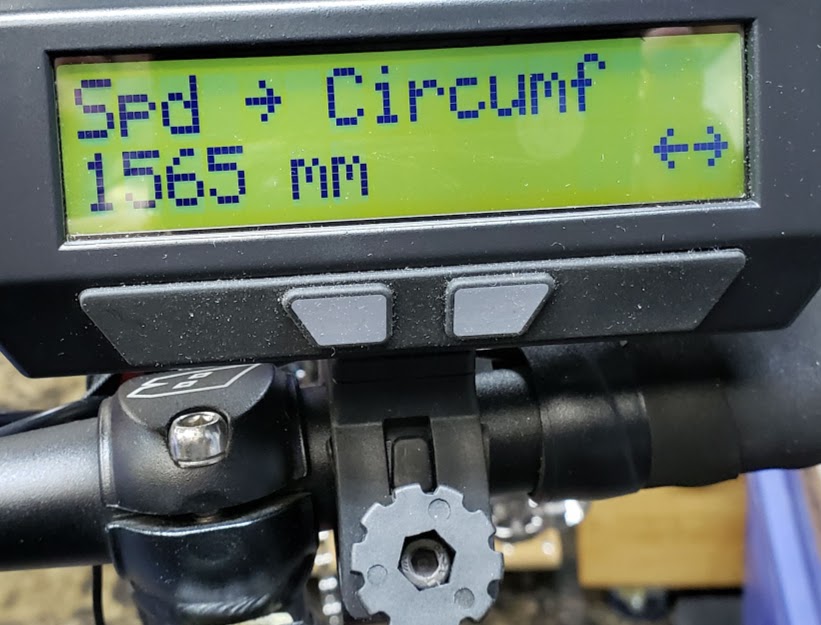 Photo of the eG20's ebrake in the OFF position, which prevents the ebrake signal line from being shorted to ground.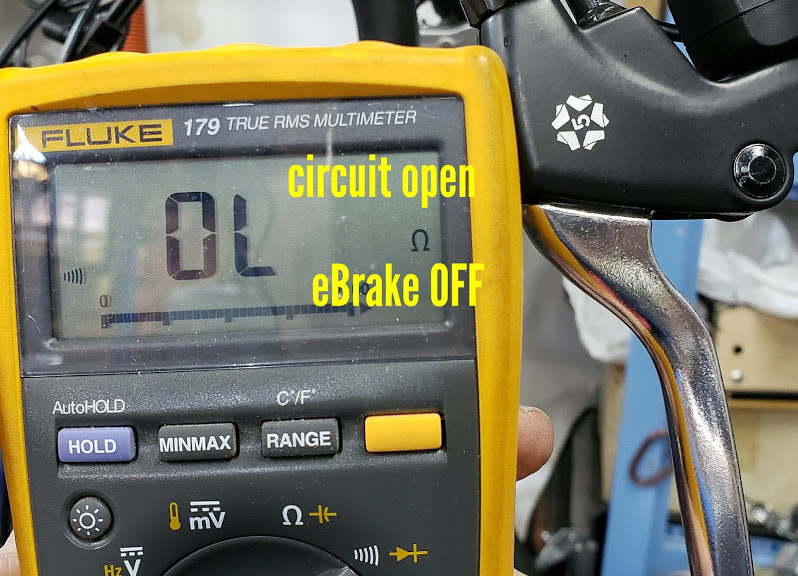 Below is a photo of the eG20's ebrake in the ON position, which shorts the ebrake signal line to ground. Notice how little lever movement is required. At this point, the mechanical disc brake calipers haven't even begun to move yet.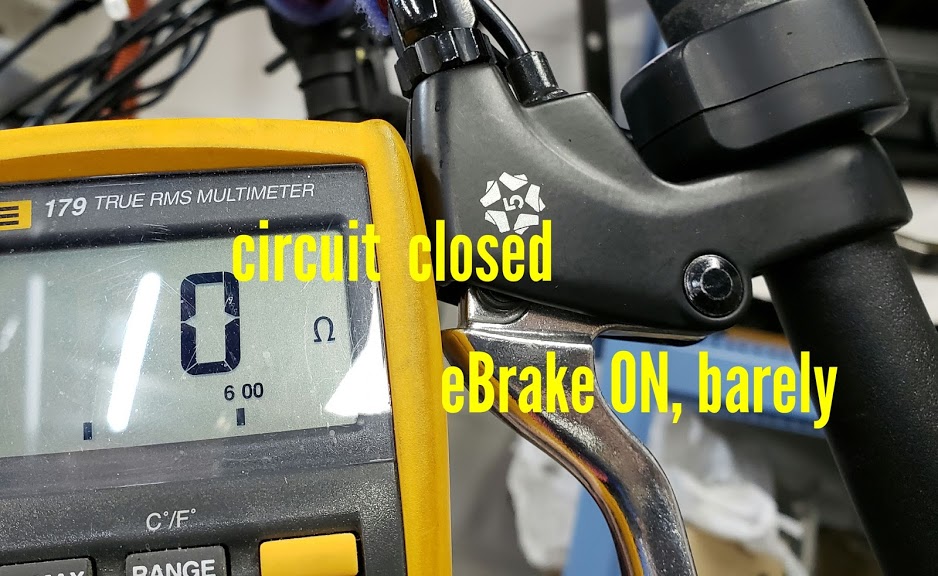 Photo of eg20_motor_and_battery_rail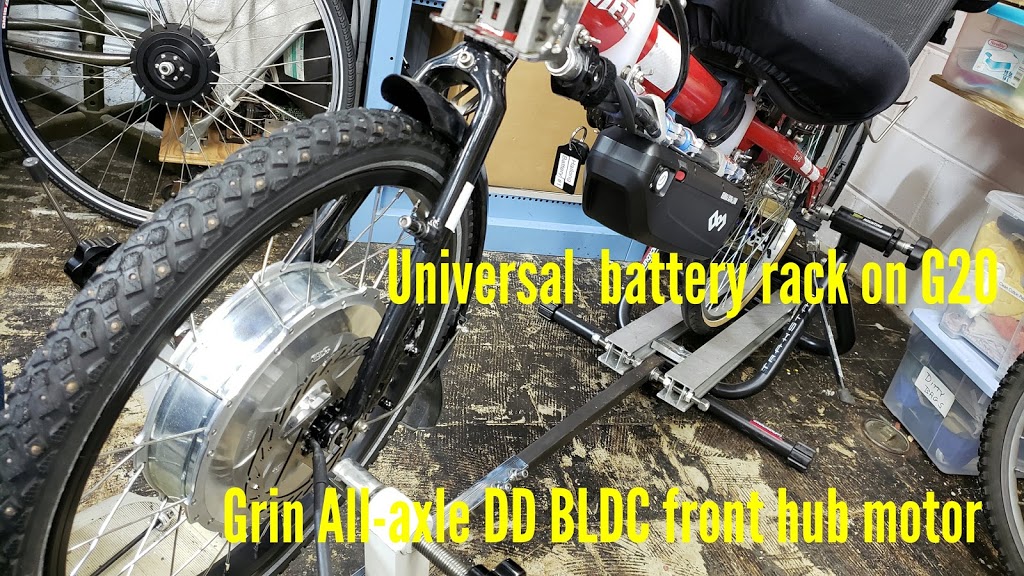 Photo of Bacchetta G2* (not mine) with "minimal" custom BionX battery mount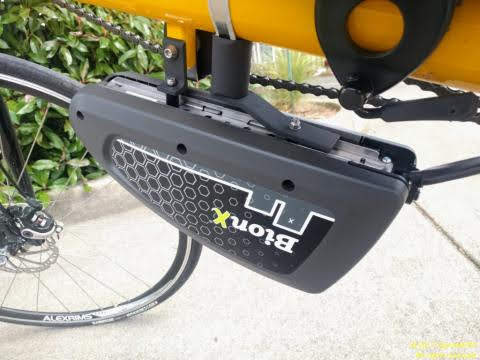 Photo of eg20_front_wheel_left_disc_brake_and_wire_exit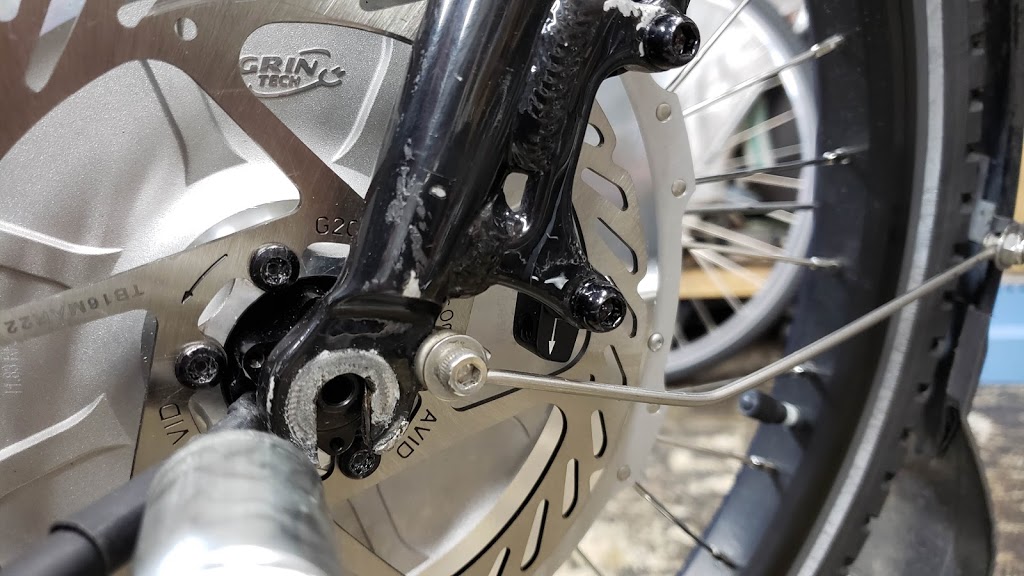 Photo of eg20_diy_battery_rail_and_frame_clamps. The clamps were made from 5/8" polyethelyne scraps (thanks Axeman!) left over from another project using JPods Handibot CNC machine. The proprietary oval tube shape was copied from a genuine TerraTrike Bacchetta frame clamp machined out of aluminum by them. A bitmap of a pencil tracing was imported into VCarve and then converted into vectors, followed by a a bit of node editing. I modified the clamps a bit so that both sides would be a bit beefier, owing to the use of plastic vs aluminum. The "rail" is a piece of 22mm beefy aluminum tube ("handlebar stock") left over from a rowbike project. The M22 rail clamps are made from some dumpster dive (thanks "The Finn") aluminum straps. All nuts and bolts are stainless steel.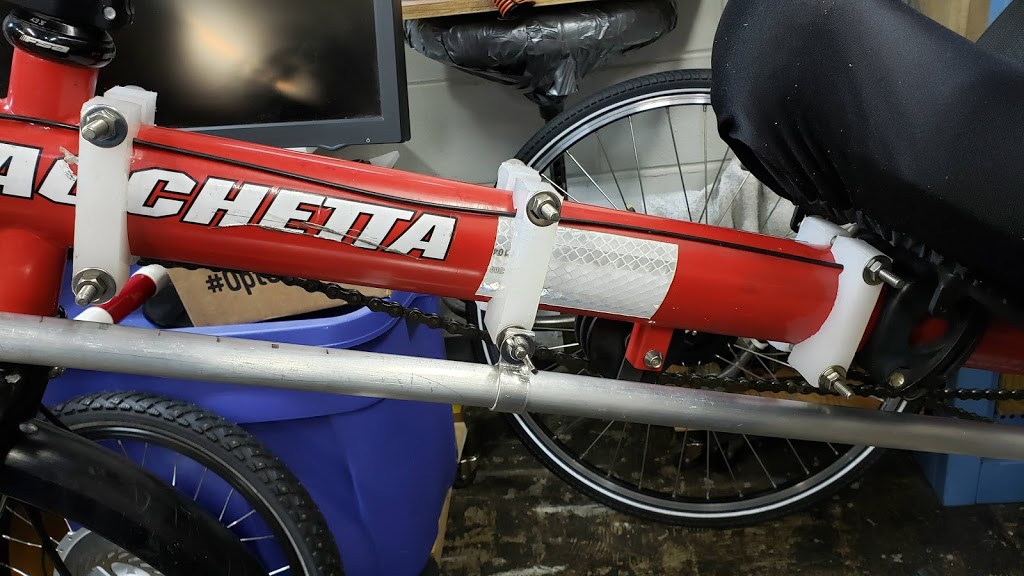 Photo of eg20_diy_battery_rail_and_frame_clamps_on_workbench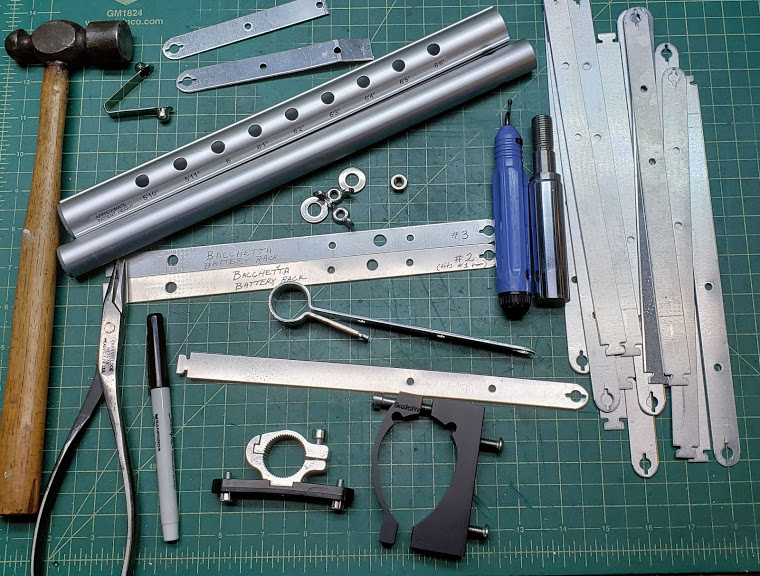 Photo of